Charles Onwuakpa writes a detailed analysis of Tottenham Hotspur and their tactics in the 2016/2017 season.
---
If there was one team that truly deserved to win the Premier League last season apart from Leicester City, it would definitely be Tottenham. And it's quite easy to find out why: at the end of last season, Spurs had the best defence in the league (35 goals conceded, tied with Manchester United), the 2nd best attack (69 goals scored, only 2 short of Manchester City) and had created the highest number of chances (658 in total). But it wasn't enough.
With many of the top teams struggling last season, it soon became a two-horse race between the North Londoners and the Foxes. A costly dip in form during the final part of the season against the likes of Chelsea, Southampton and Newcastle saw them not only lose the title, but also be surpassed by their archrivals Arsenal on the last matchday of the season, as St. Totteringham's Day was celebrated for the 21st consecutive season.
This season, Spurs are on the verge of breaking all their personal records in the history of the Premier League in terms of goals (scored and conceded), wins, losses and points. So far they are top of the ranks for created chances, shots per game (17.5) and shots on target per game (6.3). They have also conceded just 8.9 shots per game, which is very impressive.
Transfers
Last summer saw the departure of players like Ryan Mason, Nabil Bentaleb, Federico Fazio and Nacer Chadli amongst others, as well as the arrival of young promising elements in likes of Vincent Janssen (AZ Alkmaar) and Georges-Kevin N'Koudou (Marseille), who were brought to increase the squad depth and attacking options. Pochettino also signed Victor Wanyama from Southampton as well as former Newcastle winger Moussa Sissoko, who was purchased on deadline day for the sum of 30 milion pounds. Homegrown players like Harry Winks and Cameron Carter-Vickers were also added to the first team squad.
How do they play?
Being in his third season in charge of the team, Mauricio Pochettino has had the opportunity to transmit his tactical principles and philosophy to his players, who are now recognizable on the pitch as they play with a proper identity and unity. Team-bonding and developing youth players have helped Tottenham to settle themselves as a top club, despite the financial gap with other heavyweights in the league. Just like his former coach/mentor Marcelo Bielsa, he has given his players the confidence and belief they need to match up against elité teams: this is the "Pochettino effect".
Tottenham are an attacking-minded team, who play a proactive, possession-based game with massive concern of the half-spaces, pressing/counterpressing situations and transitions. They are 3rd  in the league in terms of average ball possesion (57.3%) and 5th  for average pass success (82.5%).
Their standard formation is a 4-2-3-1, but throughout the season they have settled down with the 3-4-2-1 system: this is mainly due to the necessity of inserting Wanyama in the starting lineup. Wanyama is a natural ball-winner: he plays simple passes to more creative players as his main task is to destroy opponents' attacking phases and win the ball back. He attempts 3.9 tackles per 90 with a 72% success rate and averages 1.2 interceptions. His role as a defensive shield allowed Pochettino to deploy Eric Dier as a centreback in a three-man defence with Toby Alderweireld and Jan Vertoghen, leaving only Christian Eriksen and Dele Alli as attacking midfielders behind the centre-forward Harry Kane.
Pochettino has also showed tactical flexibility by using the 4-3-1-2 against West Ham and the 4-3- 3 vs Gent in the Europa League. Spurs are flexible and can adapt to any context: this has helped them a lot to cope with key players' injuries throughout the season, such as Erik Lamela (who was been out since October), Dembélé, Alderweireld, Wanyama and Kane's recently.
Attacking phase
As said earlier, the principles of the team haven't changed in three years. Spurs force their opponents to sit deep as they play out of the back. The ball is moved from defence to attack with four or five players: the former in the 4-2-3-1 system, the latter in the 3-4-2-1 system, with a deeper full back or wing back if needed. This normally depends on Eriksen's position: the Dane is the "brain" of the team as his tactical awareness and positioning determines the positional structure of his teammates. When Spurs can't access the attacking third immediately and need to keep the ball moving with ease, he comes deeper and leaves the full back/wing back (Walker/Trippier on the right, Rose/Davies on the left) to provide width on that flank. Despite that, Spurs also use the salida lavolpiana and move one of the two double pivotes to occupy the free spaces left by the advanced full backs/wing backs, such as this movement from Démbelé against Swansea.
Tottenham like to carry as many bodies as possible in front of the ball, and therefore pin their opponents into their defensive third. The attacking midfielders cut inside and occupy the half-spaces, while the full backs/ wing backs provide width. Pochettino relies on fast, accurate passing combinations in tight spaces to create goal scoring chances. By doing so, the wide players can deliver crosses to a good number of players ready to attack the goal. Walker and Rose are also focal points for the centrebacks when they need to switch play. The classic movement of the attacking midfielders or "false wingers" also explains why Sissoko has really struggled to establish himself and prove that he was worth the money: he is more of an orthodox winger, who is more comfortable near the sidelines than in the centre or half-spaces, where he can unleash his pace and physical skills. After the ball has been moved to the opponents' half, a laser pass to start the attacking move is attempted; otherwise one of the centrebacks (or Dembélé) can run with the ball and progress. These are two examples of what I just said against Swansea:
Normally the 4-2-3-1 allows Spurs to occupy all the attacking positions in the final third: as they are an attacking-minded team, Tottenham often counterpress their opponents whenever they lose the ball upfront (ex. Son Heung-Min's goal v Bournemouth), as the double pivotes follow the buildup of play very closely. The problem of such attacking overloads though is visible during transitions, as the space behind both full backs/wing backs is very vulnerable.
On the other hand, the 3-4-2-1 system guarantees Tottenham more defensive balance despite losing more creativity upfront (the wing backs must always provide attacking width): one of the two centre midfielders has to therefore drift into the vacant half-space. But this leaves Spurs with a dilemma: with the 4-2-3-1 system, the full back far from Eriksen allowed Tottenham to close down on the edge of the opponents' penalty box if needed; instead now there is only one midfielder to close down any defensive transitions in the middle as one of the defenders would be forced to push himself in a very high position.
Therefore Pochettino's team prefer a more cautious approach while counterpressing as they can count on Wanyama's ability to win the ball back.
Defensive phase
Pochettino has always been a manager who is deeply concerned about the high press of his teams. One of the biggest problems of the Premier League is that most teams lack a quality pressing system and mainly rely on sporadic individual pressure: instead Spurs, alongside Liverpool, Chelsea and Manchester City, are by far one of the best pressing teams in the league. Just like Klopp, Pochettino believes that "pressing is the best playmaker in the game" and seeks to use gegenpressing to start an inviting attacking transition, as the opponent is yet to reorganise himself. Spurs use pressing triggers: these are coded movements which invite a teammate to start the press. Some pressing trigger examples are backpasses, players receiving the ball with their back facing goal and passes from the centreback to the full back.
The ball near player has to reduce the time and space of play his opponent enjoys, as his teammates try to covershadow any passing options available. When they defend their own half instead, Spurs use a zonal marking system (generally a 4-4-2) as they create vertical and horizontal compactness in the central areas of the pitch. They are also very good when they advance as a unit to win second or third balls.
With the 3-4-2-1 system, Alli and Eriksen don't track back immediately, but create a narrow midfield in a 5-2-2-1 defensive shape. This makes the pressing via the flanks much more difficult and the lack of defensive width in midfield can be exploited by their opponents. An alternative of this is a 5-3-2 shape, with Eriksen dropping into the midfielders' line.
Due to their high compactness when counterpressing, Spurs are often vulnerable when they face a switch of play (even with a back 5) and are not always punctual in creating vertical compactness, leading to costly errors such as this one v Liverpool.
What's even more curious is the fact that their defensive actions (tackles and interceptions) per game have noticeably dropped: this is because most teams in England are comfortable with playing long balls to elude Tottenham's high press.
In Tottenham's style of play we can also see different elements of positional play: occupying all passing lanes in the attacking third, advancing with the ball to drag opponents out of position, a smooth, deep buildup and, last but not the least, accumulating many players near the ball to attack the opponents on the opposite flank. Son's goal v Swansea is a very good example of Pochettino's positional play.
The key players
Eriksen is no doubt the playmaker of the team, as he has the technique and composure to play with a more patient approach while his attacking teammates attack spaces. He is 1st for chances created in the league (96) and has managed 8 goals and 12 assists so far. He's also a brilliant set-piece taker as well as a deadly crosser.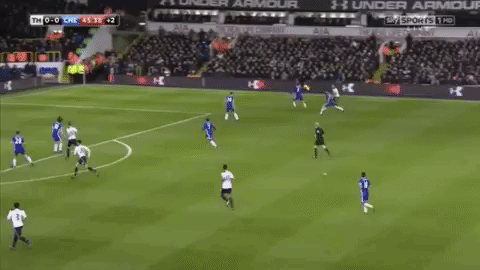 Harry Kane has enjoyed another prolific season: for the 3rd campaign in a row he has scored 20+ goals and established himself as a top class, all-round centre forward in Europe.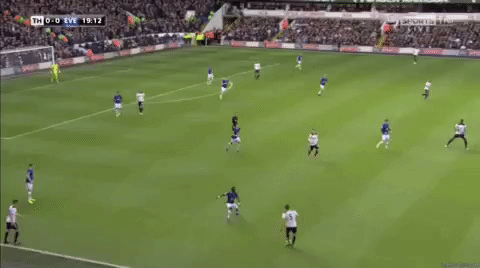 Dele Alli has also continued his incredible rise from League One to the top flight, as Pochettino has been able to allow him thrive and achieve some unreal end product. His partnership with Kane is one of the best in the league. Dele has scored 16 goals and managed 5 assists, winning the "PFA Young Player of the Year" for the second edition in a row. His ability to run into space is out of this world.
Where do they need to improve?
Despite what I explained in the previous paragraphs, it might just not be enough. Lack of experience and discipline got them eliminated from the Champions League (in quite an easy group) and the Europa League (v Gent), where they encountered very technical teams who exposed all their defensive problems in their penalty box. Their attacking play too needs to be improved as most shooting attempts come from outside the box.
Nevertheless, they have done very well in the Premier League title race. Hard work and patience, especially towards the likes of Janssen and N'Koudou, who need game time to settle themselves in the squad (as Son did this season) will be key in further improving the North Londoners. Despite that, Tottenham can indeed strive for greatness and look ahead positively towards the upcoming years under the guidance of Pochettino.
---
Read all our other team analyses here
UniBo student, creative non-fiction writer & football analyst.
Latest posts by Charles Onwuakpa (see all)