---
William Sinsky writes a comprehensive scout report about Emerson Hyndman, the American deep-lying playmaker
---
With newly appointed manager Pedro Caixinha looking on from the stands, Rangers Football Club went in to Celtic Park with a tempered expectation. They had just recently sacked manager Mark Warburton, placing Graeme Murty as interim coach, and were facing their archrivals who had won an incredible 26 of their 27 league games this season, including a 5-1 thrashing of Rangers back in September.
Down 1-0 with 20 minutes left, Rangers were pushing the attack. After scrapping with Celtic midfielder Scott Brown in the 86th minute, earning a free kick, 20-year-old American Emerson Hyndman received the ball with an open shot. His strike across goal was saved by keeper Craig Gordon, only for Rangers defender Clint Hill to bury the rebound in the back of the net to give Rangers an impressive result away.
This certainly isn't the only time on-loan Hyndman has come up big for Rangers.
In his first match at his new club, Hyndman scored a debut insurance goal late in a 2-0 win against Motherwell. The very next match, he scored again, though it was the lone goal for his side in a 4-1 loss to Hearts. He continued to excel in the starting lineup however, and in a midweek match at Rangers home ground of Ibrox Stadium, he made his mark. After his club lost a two-goal lead to St. Johnstone, Hyndman chested a headed pass at the top of the box, then lashed a sideways half volley past the keeper to produce a stunning 90th minute game-winner.
This immediate success has Rangers fans and pundits alike clamoring for Caixinha and the Rangers board to sign Hyndman on a permanent contract. But just who is this young midfielder with ever-increasing value?
Who is Emerson Hyndman?
Born in Dallas, Texas, Emerson Hyndman started playing soccer at a young age. After playing for the youth academy of FC Dallas, the Major League Soccer team his grandfather managed at the time, Hyndman joined the Fulham F.C. Academy at the age of 15. He made his professional debut at the start of the 2014-15 EFL Championship season. In the 2015-16 season, Hyndman made 16 league appearances, including a 2-1 victory over Cardiff City in which he scored a 93rd minute winning goal, his first professional goal, celebratedly on his 20th birthday.
Talent Radar Accoaldes
After five seasons plying his trade at Fulham, Hyndman had decided it was time to move on. He joined Premier League Cinderella club Bournemouth for their second season in the Premier League, but struggled to find playing time under manager Eddie Howe, limited to just a few cup matches. He was sent on loan to Scottish Premiership club Rangers for the remainder of the 2016-17 season, and Howe has reiterated that he wants Hyndman to return as a future regular for Bournemouth.
Hyndman has had considerable individual success as a youth international; he scored two goals as captain for the United States U-20 squad in the 2015 U-20 World Cup, in which the U.S. lost in the quarterfinals to eventual tournament winners Serbia. He has been capped twice by the senior national team, and could be set to feature more for The Stars and Stripes in the coming years.
What is Style of Play?
Emerson Hyndman is a prototypical deep-lying playmaker, hence the dramatic but not fraudulent nickname of "the American Andrea Pirlo". He can also play as a box to box midfielder when needed, as he did at times for Fulham. He has played in various formations, such as 4-3-3, 4-4-2, and 4-2-3-1. He is the engine of the team. In his highly technical position, Hyndman will stay further back on the pitch, despite his impressive goal tally for Rangers, only flying towards goal when necessary. He conducts teammates forward, as he is often the transition from defensive action to attack. When he does move into an attacking area, he will hang in or around Zone 14, ready to hit any rebound attempts or stifle any counter attacks.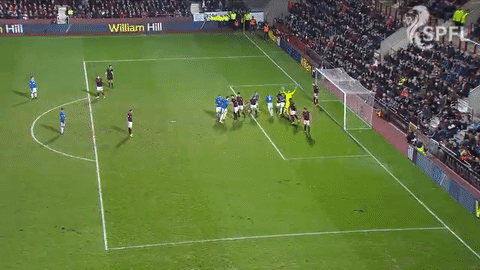 Hyndman has the technique needed to execute a successful half volley, as proven against Motherwell as well as here, against Hearts. Volleys are often hit with either too little power or too much, but here Hyndman has found the perfect balance.
What are his Strengths?
Defensively, Emerson Hyndman has nearly every trait a manager could hope for. He is a superb presser, thriving in taking the ball off an opponent or forcing a mistake.
When in space on defense, he is constantly looking for a man to mark. This level of consistency and determination creates an incredible work ethic, something appreciated by his teammates and managers; he was awarded Rangers Player of the Month for January/February.
As a deep-lying playmaker, outstanding vision and passing accuracy are necessities, two things Hyndman excels at. He finds space behind opposition midfielders to pass short, quick balls to his teammates, hitting them in stride. This also requires some patience waiting for your teammates to make their runs. Fortunately, Hyndman is also very good at holding the ball against a defender; he's rarely dispossessed. When he does make these passes, he will on occasion immediately make himself open for a return pass. As mentioned, he has surprising accuracy on the volley, giving his club an added element in attack. He is also very mature for his young age.
What are his Weaknesses?
Emerson Hyndman's weaknesses, though none too prevalent, come from physique, something not necessarily vital for his position. Standing at 5'9"(175cm), he loses some aerial balls, and his closing speed isn't the best it can be, especially when he gets more playing time at higher levels. On occasion, he will also seem flustered when receiving the ball, but indecision often fades with experience.
Emerson Hyndman is a player full of potential. Whether he returns to Bournemouth or signs a permanent contract with Rangers, Hyndman's work rate and technical ability will continue to develop, making him a must-watch midfielder for national team and club supporters alike.
---
Read all our scout reports here
Latest posts by William Sinsky
(see all)